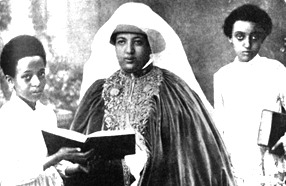 Salamta,
Ises Itinually unto HIM Emperor Haile Selassie I and HIM Empress Menen.
Welcome to International Rastafari for Inity Embassy
On this home page I and I shall introduce ourselves and highlight important areas on our site.
One Perfect Love

I and I are honored that you are visiting our web site. International Rastafari for Inity Embassy, are always striving to find new ways to get our message out to current and prospective members. This web site allows us to reach I and I Royal Family of Rastafari we may never have been able to contact before.

Please use this site to access the information you need about I.R.I.E as a resource for enlightening ones wismind and overstanding. I and I look forward to hearing from you and answering any questions you might have.

Please sign our guestbook to offer comments and join our mailing list for announcements and special events.

Divine Reasoning
Fridays 7:00pm Eastern www.clubs.yahoo.com/clubs/jahroots